Artificial Grass Glasgow
ALBURN Construction & Landscaping provide an artificial grass service to the Glasgow area.
Artificial Grass Company Glasgow
If you are looking for an artificial grass company in the Glasgow area ALBURN Construction & Landscaping can help. We have many years experience providing artificial grass services.
Is artificial grass right for your Glasgow garden?
Climate change experts tell us that the earth is heating up; during winter months, we will face bitingly cold temperatures and in summer, we will need to learn to live with blistering heat. Not only do us humans struggle to cope, so do animals and plants. For grass, there is nothing worse than extreme temperatures. With shallow roots, grass is unable to survive anything than 'normal' temperatures'. Hence, it quickly burns and browns.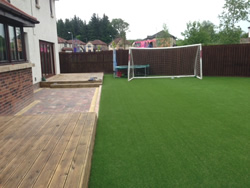 In hotter climes, artificial grass has been the norm for some time, adding much wanted and need greenery to the surroundings. And now it seems that artificial grass in Glasgow is a great way to ensure a year-round green lawn – with very little effort!
The benefits
There are some great benefits to having artificial grass at your Glasgow home or business;
We all live busy lives and in order for a lawn or grass to grow and be green, it needs maintaining – raking, watering etc. If you have little time or no inclination to spend your leisure time watering the lawn then artificial grass is a great choice!
For older people or those less mobile, mowing the lawn can be a huge undertaking; artificial grass at your Glasgow home or business will need no mowing – only the occasional sweep to gather leaves or other debris.
Artificial grass is great for use around all properties, including holiday or occasional homes
Your artificial grass lawn will also stay looking vibrant and green, even during hot weather and drought conditions
In fact, maintenance is minimal – no fertilising, no watering, no weeding, no re-seeding bald patches… keeping it clear from fallen leaves and other debris is really the only maintenance it needs.
Artificial grass at Glasgow properties can be incredibly beneficial in certain, specialist applications – for example, around swimming pools or in areas where there is a large amount of wear-and-tear. This is one of the reasons why event management companies use artificial grass…
With so many benefits to using artificial grass or lawn, it seem hard it imagine that there are any downsides but, any purchase needs to be a considered one, so bear the following in mind;
Some people simply do not like it, preferring the feel and look of 'natural' grass under foot.
Some people also point to it looking 'oddly too green' especially in areas where the bordering gardens are parched or bear. This is commonly seen in very dry areas, such as Arizona in Texas but we do not have these conditions in Glasgow just yet…
It must be expensive?
Many people find that installation and maintenance costs of artificial grass at their Glasgow are far less than having paving installed, along with many other materials.
Why not take a look at how an artificial lawn could increase the kerb appeal of your property?
Contact Us
Please feel free to contact us for more information on our artificial grass services.